PROJECT

- Design a Receipt Management App for an Art Gallery
GOAL

- Create an accessible, easy to use mobile app which works in offline mode.
CLIENT

- Local Art Gallery in Melbourne
MY ROLE

 - User Research - Ideation - Prototyping and UI Design
TOOLS

- Figma, Adobe Photoshop, Adobe Illustrator ​​
USE CASE SCENARIO



The local art gallery in Melbourne is relying on both paper-based as well as digital receipts for their sales and expenses. With growth in the number of clients and business expanding internationally, the need for an online platform to manage and archive the receipts have become a necessity.
Here I share with you the step by step process of designing this app for smart phones.
EMPHASIZE


Research - Task Analysis - Persona Development 
​​​​​​​
DAY TO DAY


Camille spends most of the year painting in her countryside studio and when not painting she works casual hours at the gallery. She loves to talk to people and enjoys selling art but doing finances and arranging the receipts are her least favorite tasks.



FRUSTRATIONS


Her native language is French and she is not very tech savvy, except for her iPhone she rarely uses Desktop computers. She prefers to work independently without receiving help and given a clear instruction she can follow the processes. She relies heavily on her prescription glasses for reading.
DAY TO DAY


Elaad took over his father's gallery recently and resides between US & AUS. When not traveling for work he spends his time managing art sales and other finances.



FRUSTRATION


Elaad is very tech savvy and works off his smart devices a lot. He prefers to keep his work place tidy. Accuracy and loss prevention are very important to him. His main concern is to be able to keep record of his buys and sales.
DEFINE


Real Problem - Competitive Analysis - Value Proposition
PROBLEM STATEMENT

 

Camille is a non tech savvy artist, who needs clear instructions, so that she can archive sales receipts from her phone without asking for help because she is often alone at the gallery and has no one to help her.

Elaad is a busy gallery director, who needs to be able to access and manage receipts offline because he travels frequently for work. 
Picked 3 brands and compared them in the following tables - please click on each image to view.
PRODUCT'S FEATURES AND BENEFITS


+ User friendly interface
+ Offline Mode
+ In-built receipt scanner using highly advanced OCR technology
+ Encrypted Password Generator 
VALUE OF THE PRODUCT


+ Easy to use
+ Available at any time
+ Accurate, Reliable and Fast
CONNECTION TO USERS NEEDS


+ Camille will benefit from its ease of use. 
+ Elaad - can use it freely outside of office.
IDEATION


Pen & Paper - Structure & Layout - Storyboarding & Wireframing 
​​​​​​​
THE BIG PICTURE - CLOSE UP STORY & WIREFRAME IDEATION
THE OFFLINE MODE ISSUE


Originally aimed to add it as a feature which could be turned on and off depending on the connection status. After taking into consideration that user may find this step confusing or forget to activate the mode, introduced a 3rd step in the Sign up process that creates a PIN and ultimately stores an encrypted password in the app for when there is no connection to the internet.
Original Wireframe, went through 4 layers of iteration and adjustment before translating it to the Hi-Fi Prototype.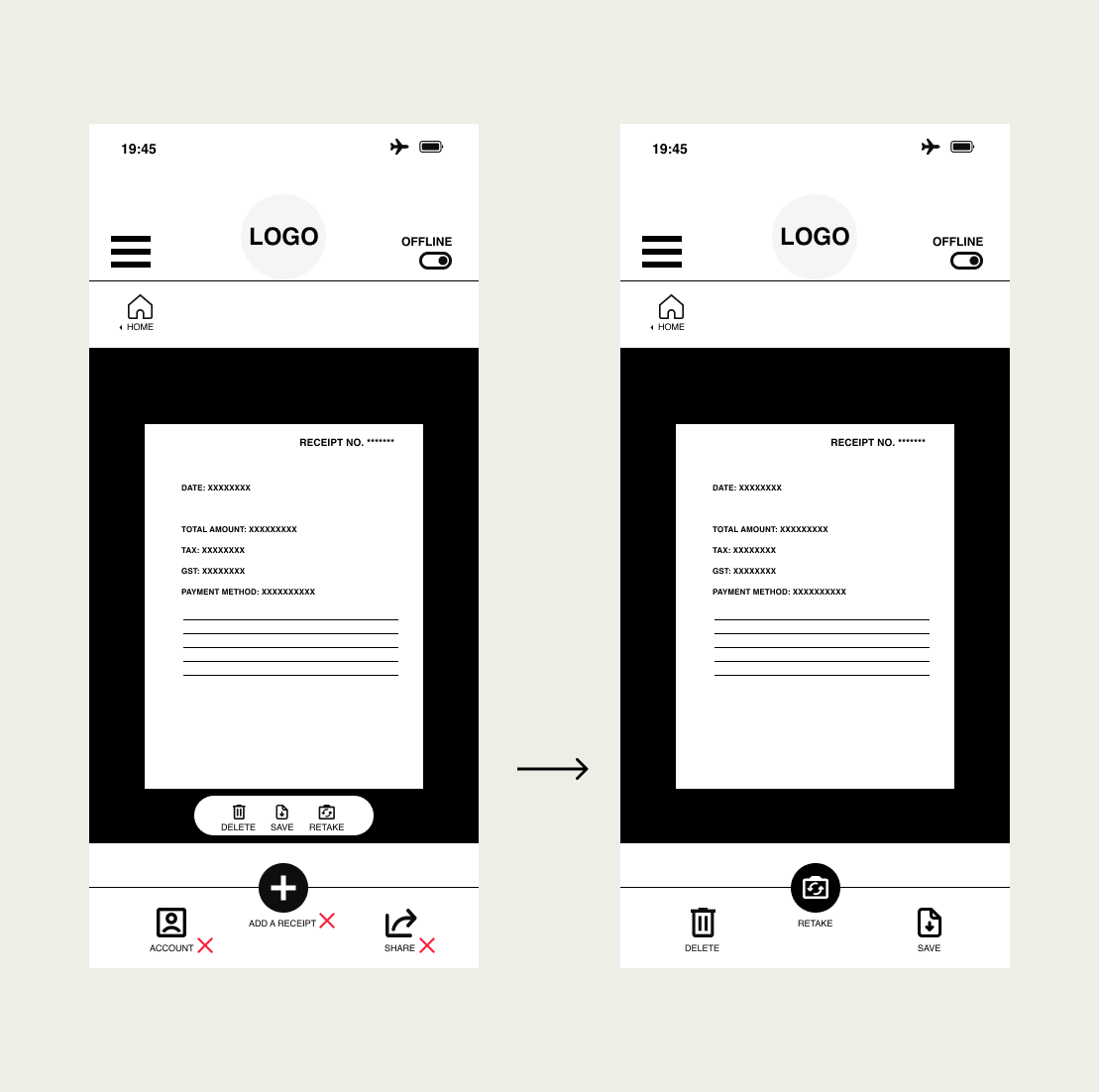 PROTOTYPE


Hi-Fi Design, Visual Design, Interaction Design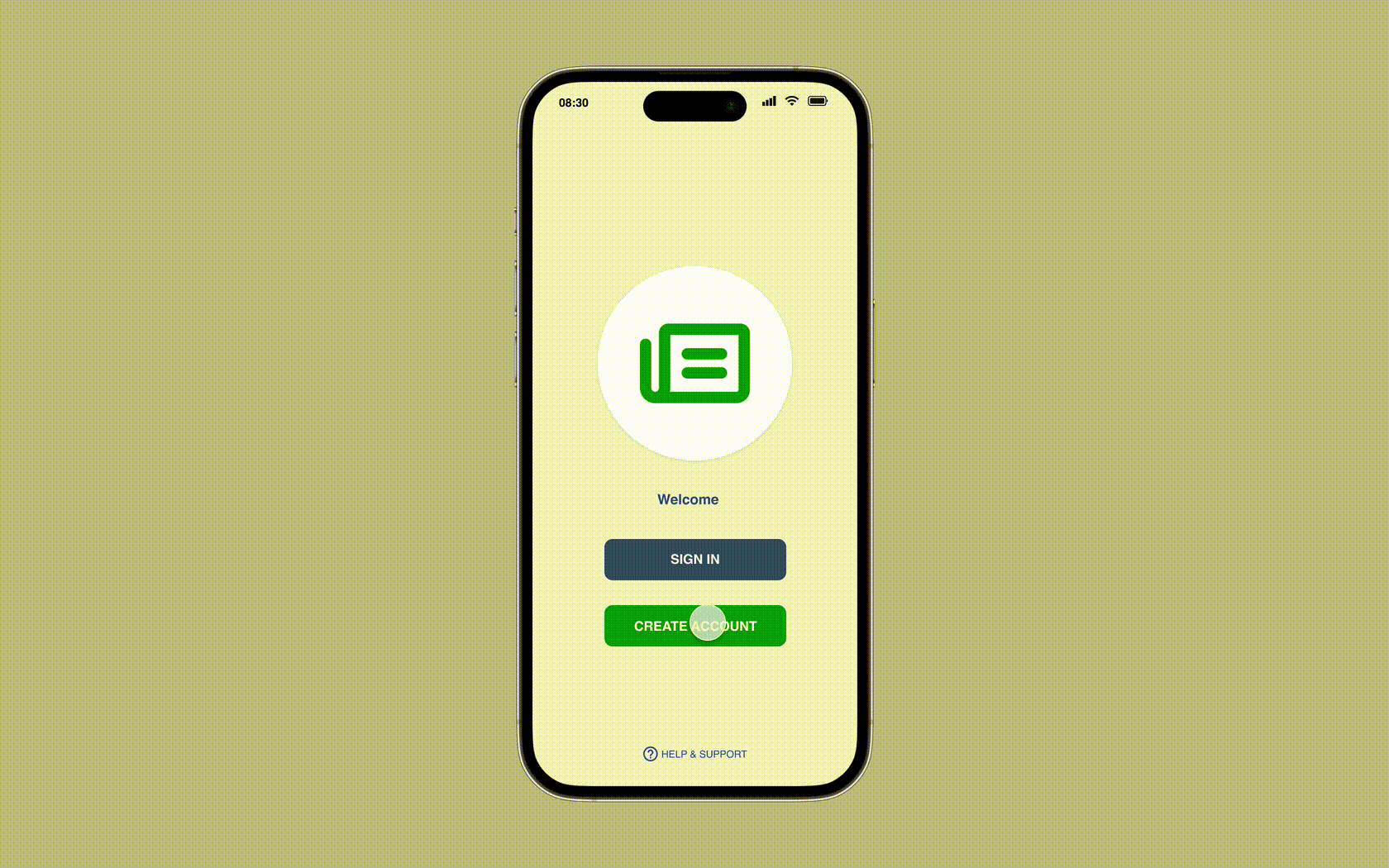 TEST


Feedback, Modification, Iteration 
​​​​​​​
One of the critical steps in the design process is testing. After receiving feedback from more than 6 different users, multiple amendments were made to reach the current version.